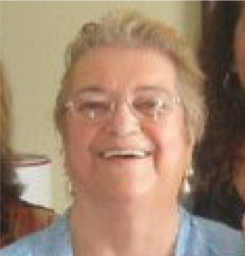 It is with great sadness that the family of Linda Marie (Doucette) Streck  announces her passing from complications due to stroke, on Saturday, December 7, 2019, at the age of 70 years. Linda will be adoringly remembered by her eight children, Tammy Jungels (Gary), Kenneth Streck (Jennifer), Kristen Streck, Jennifer Streck, Michelle Dougherty (Joseph), Jamie Lynn Walther (John), Anthony Streck (Nistelle), and David Streck.
Linda will also be lovingly remembered by her sisters Donna Doucette and Patricia Streck (Robin) and eighteen grandchildren: Heather, Kimberly, Michael, Raymond, Preston, Donovan, Zachory, Jacob, Benjamin, Robert, Jordan, Michael, LJ, Jonathon, Jerry, Julia, Emmeline and Vaira-Lee; seven great-grandchildren and numerous nieces, nephews and cousins. Linda was predeceased by her parents, Dorothy and John Doucette, brother Jackie Doucette and daughter Amy Streck. 
Most recently a resident of Tewksbury, MA, Linda was born in Dorchester, MA and grew up in Reading, MA among a close and extended family. She later lived in Nevada and raised her children in Van Buren, ME. Linda was a dedicated mother first and foremost. She treasured her children and embraced every moment with them and her grandchildren who called her Nana. Linda was also foster mother to countless children through the years. Everyone who knew her soon came to call her Mom. Her home and heart were always open to those who needed a family to call their own.
Linda loved music, Elvis and Queen in particular and had a poster of Freddy Mercury in her bathroom. An avid cook, there was never a cooking channel that she did not enjoy and when she discovered InstantPot YouTube channels she was in heaven. She loved all of the Boston teams – Red Sox, Patriots and her beloved Bruins. She also enjoyed movies, traveling, the ocean and beaches, especially the lighthouses in York, crafting, coloring and painting, shopping on QVC, playing cards with friends and relished in the company of her beloved parakeet, Tweetie.
To say that she will be missed is an understatement, but the family finds solace in knowing that she will know peace after so many health battles over the years.
A funeral mass is scheduled for 10:30am on Friday, December 13, 2019 at St. Agnes Church, 186 Woburn St, Reading, MA 01867. Internment to immediately follow at Forest Glen Cemetery.
In lieu of flowers, the family asks for donations to be made in memory of Linda Streck to High Pointe House who took such precious care of her in her final days. Donations can be made online at: https://www.homehealthfoundation.org/donate/donate-online/
Home Health Foundation Attn:Community Engagement 360 Merrimack Street, Building 9 Lawrence, MA 01843